PMG Leasing, L.L.C. is a family-owned commercial real estate leasing and development firm based in New Orleans, Louisiana. Our specialty is the leasing of neighborhood retail space.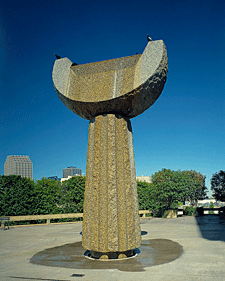 The PMG offices are located on the edge of the New Orleans Central Business District in a Skidmore Owings and Merrill office building, which was erected in 1963. The building is named K&B Plaza after the drugstore chain that headquartered there from 1972 to 1997. On the plaza level is a monumental granite fountain by Isamu Noguchi, called "Mississippi". Contemporary art is also featured throughout the building interior.
Our commercial portfolio includes shopping centers concentrated in the New Orleans area, but also in Houma, Baton Rouge, North Louisiana, Gulfport, the Jackson area, Mobile and Pensacola. Many shopping centers have drugstore anchor spaces, which are typically 15,000 square feet. PMG also manages high quality warehouse space in Jefferson Parish.
LEASING INQUIRIES
Please contact us with the address of the location that you are interested in. Also provide your contact information and proposed business use, so that we may reply appropriately. We will respond within one business day. Send emails to info@pmgleasing.com or phone our offices, weekdays, between 8 AM and 4:30 PM CST, at (504) 586-1166. Price quotes may be obtained by phone.
PMG subscribes to the Louisiana Commercial Database (www.lacdb.com); as well as Loopnet. (www.loopnet.com.)
OTHER INQUIRIES
For all other inquiries, not related to leasing, please contact us electronically at help@pmgleasing.com or call the office during business hours, at (504) 586-1166.
LEASING FROM PMG
Leases are triple net, thus rent is paid with the tenant's share of property expenses, which are reimbursed on a monthly basis, along with rent. These expenses are real estate taxes, common area maintenance, and insurance.
Minimum leasing requirements are as follows:
High credit score
Personal guarantee
One month security deposit
1-year minimum lease term.
Depending on the location, additional requirements may apply. The business use is also a determining factor.
Leasing appointments are during business hours, except in the case of special arrangements. We frequently use outside real estate agents to show our properties. If this is the case, an introduction will be provided.
OUR TEAM
VALERIE BESTHOFF, SENIOR VICE PRESIDENT, LEASING
Valerie holds a degree from Tulane University, and is an active member of the International Council of Shopping Centers (ICSC). She obtained the designation, Certified Shopping Center Manager, from ICSC. Valerie worked in the Real Estate Dept. at K&B drugstores for many years, prior to K&B's sale to Rite Aid, in 1997.
JANE STEINER, VICE PRESIDENT, LEASING
Jane holds a degree from Vanderbilt University and a Master's from Columbia University.
Jane has worked at PMG since the firm's inception, in 1997.
CHAD CARPENTER, CPA, CHIEF FINANCIAL OFFICER
Chad is responsible for all of the company's financial functions including accounting, treasury, tax and corporate finance as well as leading all human resources activities. He has 20 years of experience in accounting and finance, including 10 years in commercial real estate and property management. Chad holds a Bachelor of Business Administration in Finance from LSU.
JOANNE HUGHES, DIRECTOR OF PROPERTY MANAGEMENT
Joanne handles some leasing and all property management functions. Joanne attended Alford State College and has over 15 years experience in property management and commercial leasing.
ANDREW MARCUS, LEASING ASSOCIATE
Andrew joined PMG Leasing in May, 2019. He holds a B.S. in Economics and Urban Studies from the College of Charleston. After college, he worked in various partnerships and sales roles at high-tech companies in San Francisco. Andrew is responsible for leasing retail locations of more than 10,000 square feet.
JASON STEINER, LEASING ASSOCIATE
Jason Steiner joined PMG Leasing in 2018. He graduated from the University of Colorado in Boulder with a B.A. in Economics and a minor in business. After graduation, he worked for Robert Half Staffing Agency and Four Star Realty in Denver, CO.